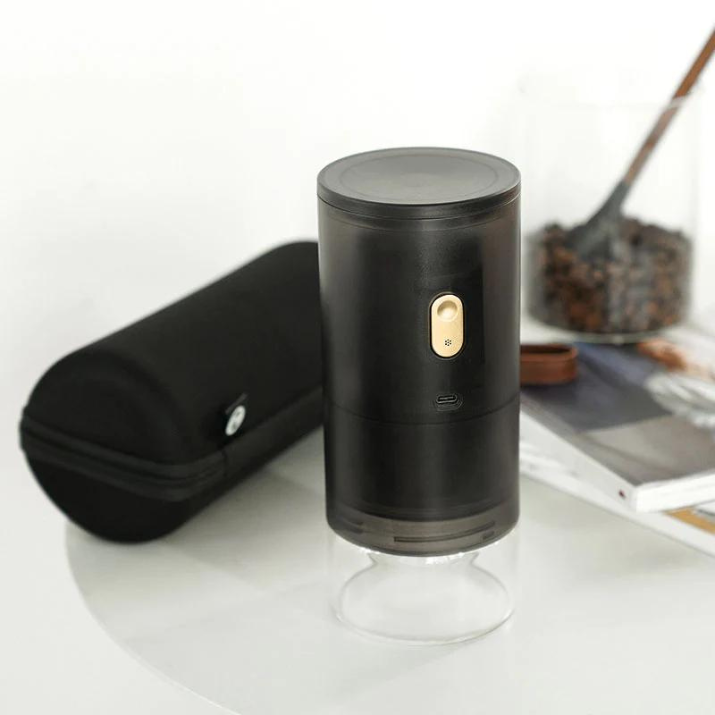 Grinder Go - Portable Electric Titanium - Timemore
PORTABLE ELECTRIC GRINDER
Look what those coffee creators at Timemore have developed now! Get this, it's a sleek looking, portable, battery driven coffee grinder! It's amazing! No, it really is! Save space and get this out to bedazzle folk when grinding those beans!

Much quicker (and less effort) than most portable grinders, grinding 15g of beans in just 27 seconds for medium grind.
Easy to use with on / off button and a screw on glass base. Lithium ion rechargeable battery which will give you 30 grinds from one single charge, whether you're home or out and about.
Yes, the grinding quality is just as good as the professional manual grinders and the grind size is easily adjustable for espresso to pour over.

The adjusting of the burrs is easy, point click to adjust. Titanium coated for extra longevity and sharpness! 
Features:
Stops automatically when finished grinding
Long standby time
Easy to charge
When fully charged will grind more than 400g of beans 
Glass coffee base which doubles as a container
Comes with it's own fancy, zip up jacket
E&B stainless steel titanium coated conical burrs
USB chargeable
Capacity: 60g 
Size H: 22cm x Wx 8.6cm x L 8.6cm
Weight 660g
Motor DC7.4V, DC carbon-rush
Voltage 7.4V/DC
Includes USB-C cable and brush
1 year warranty
Warnings and do nots
Don't grind more than 60g per grind - it's not made for large batches
Do not grind very light or very dark beans at 0-2 clicks - the machine will overheat
Keep away from water - do not wash the main body!
Avoid fast chargers, use 5V, 1A or 2A adaptor
Don't shake your grinder when it's busy working
Keep your fingers and all other parts away from the burrs when they're moving!