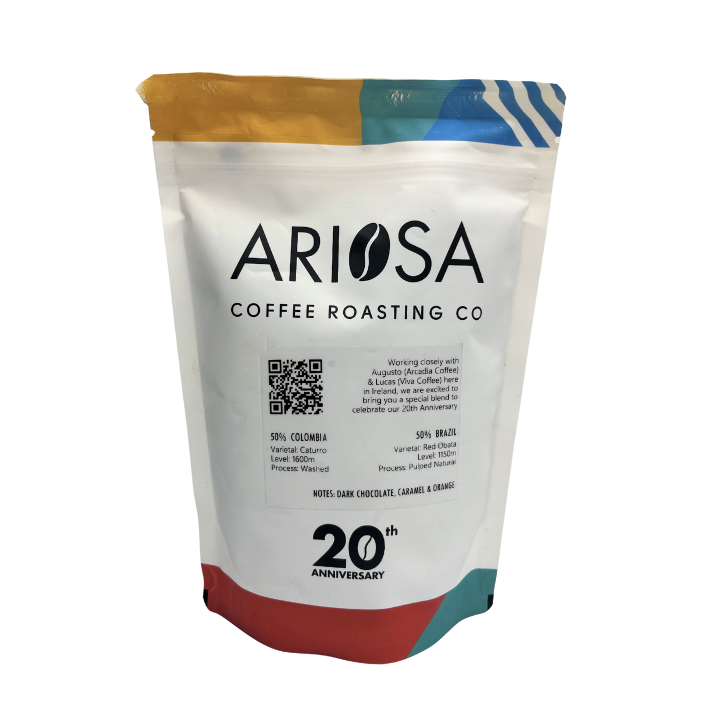 Ariosa 20th Anniversary Blend
Working closely with Augusto (Arcadia Coffee) & Lucas (Viva Coffee) here in Ireland, we are excited to bring you a special blend to celebrate our 20th Anniversary.
This blend has two top quality beans from Colombia 50% & Brazil 50% and features tasting notes of dark chocolate, caramel and orange. 
Farm
COLOMBIA - Huila, Magdalena River Valley - BRAZIL: Ouro Fino, Minas Gerais
Preparation
Washed & Pulped Nautral
Variety
Caturro & Red Obata
Country
Colombia & Brazil
Tasting notes
Dark Chocolate, Caramel & Orange
COLOMBIA 50%
Nestled in the southwest region of Colombia, Huila holds a very well-regarded position among the country's top coffee-growing regions. Its strategic location within the Magdalena River Valley, adorned with a mixture of altitude, cloud cover, rain cycles and volcanic soil, creates a remarkable setting for cultivating speciality coffees with unique aroma, exquisite flavour, distinctive balance and unwavering consistency. The unique environmental conditions helps to produce a coffee of unparalleled balance and sweetness, a true embodiment of Huila's distinct character. The harmonious cup profile of our Santuario coffee has a delightful interplay of fruity and herbal notes. Grown at altitudes ranging from 1400 to 1700 meters above sea level, in the heart of the mountainous terrain, these beans thrive under average temperatures of a bit below 20°C.
We pay the best price we can for their exceptional produce, we are committed to support their talent and hard work in a transparent, sustainable and reliable manner. Experience the captivating flavour of our Coffee: a testament to the extraordinary craftsmanship and passion that define Colombian coffee
BRAZIL 50%
Located in the south of Minas Gerais, the Farm Santa Izabel has always been recognized for the high quality of its coffees. Nobletree Coffee Farms acquired Santa Izabel in 2013 and began transforming it into a sustainable, world-class coffee bean producer. By 2017, our new crops started to harvest. Now in 2020, the older sections are experiencing rejuvenation for stability and sustained growth.
Santa Izabel has a greenhouse/nursery that grows over 40 different tree species that are continually evaluated for producing the highest grade coffees, thriving to the Brazilian climate, resisting disease, and maximizing crop yields. Only the very best trees from the nursery are selected and replanted in the older sections of the farm — insuring a future of award-winning coffees and sustainable farming practices. The farm also holds courses and workshops for small producers in the region, strengthening their ties and helping them find the best buyers. This farm is Rainforest Alliance Certified.