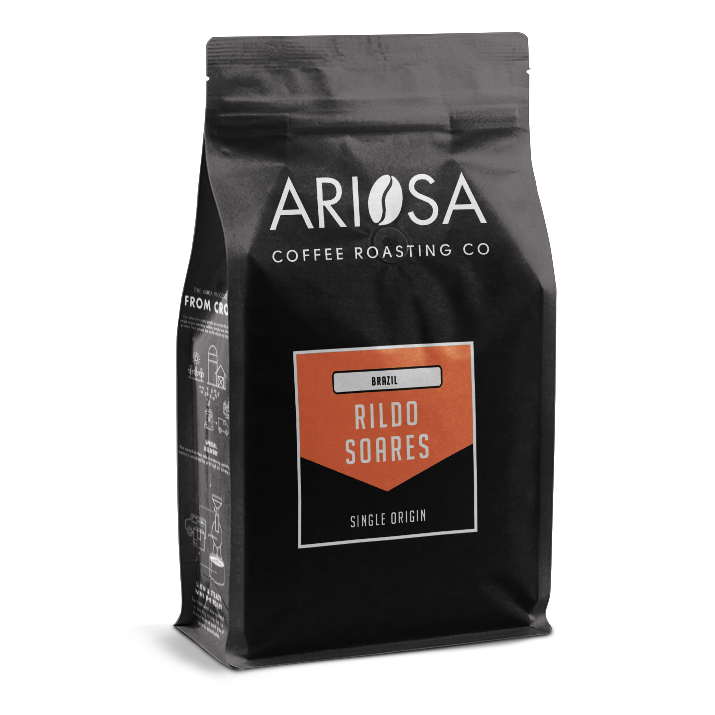 Brazil Rildo Soares
Red cherry, blackberries and lemon with caramel and velvet milk chocolate
Farm
Rildo Soares
Preparation
Natural
Variety
Yellow Catuai
Country
Brazil
Tasting notes
Red cherry, blackberries and lemom with caramel and velvet milk chocolate
The Cocatrel Cooperative was founded in 1961 in Tres Pontas and has now growm to the second largest Cooperative in Brazil. There are over 6000 members who are part of the cooperative and they have 11 different buying points across the region. All the coffee are electronically tagged and recorded on delivery with a unique QR code giving full traceablity on all the coffees for the growers to know exactly where their coffee is. Over 50% of the members of the cooperative grow coffee on land that is less than 10 Ha in size.
Sitio Chamusca has just 5ha planted with coffee with yellow catuai and Mundo Novo. Rildo Soares lives on the farm with his family and they work together with the crop. They are continuously looking to improve their coffees and the work is done by hand on the farm. One of Rildo's son is now studying argonomic engineering after coffee has been part of his life. They are very happy about this as the knowledge he is gaining is helping them improve how they work and manage the farm.
The coffee is harvested by hand with machines and then it is separated by ripeness. After this it is then dried in the sun on drying patios, for 18 days, which is a long time in Brazil. This is done by creating piles to slowly dry the coffee and extend the fermentation once the coffee leaves the tree. When it reaches a humidity of 11.5%, the coffee is then processed removing the dry hull and then it is taken to be stored in stable conditions at the Cocatrel warehouse.