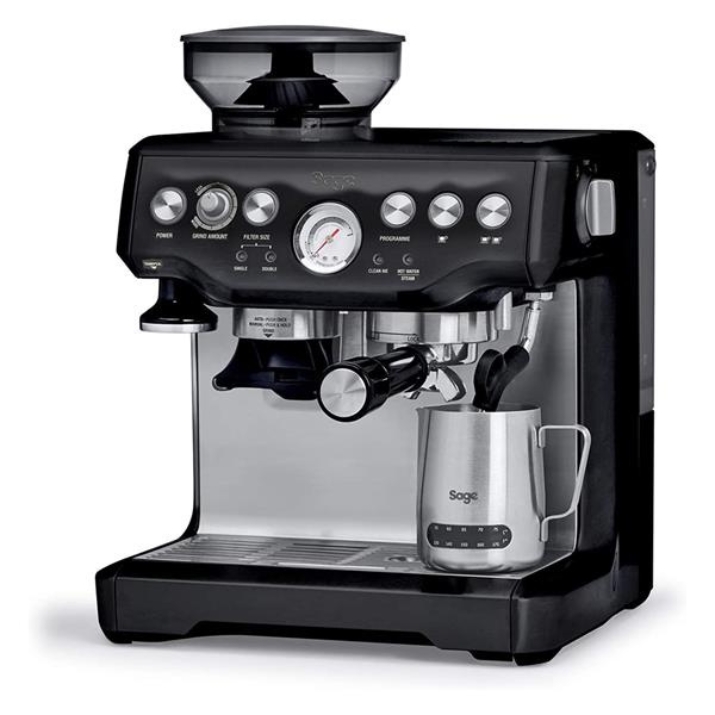 Sage Barista Express Espresso Machine
The all-in-one espresso machine. Create third wave specialty coffee at home –from bean to espresso– in less than a minute. The Barista Express™ allows you to grind the beans right before extraction for full flavour and precise temperature control (PID) ensures optimal espresso extraction. Be hands on like a barista with manual microfoam milk texturing to deliver authentic café style results in no time at all..
DOSE-CONTROL GRINDING
Integrated conical burr grinder grinds on-demand to deliver the right amount of freshly ground coffee directly into the portafilter for your preferred taste with any roast of bean.
PRECISE ESPRESSO EXTRACTION
"Digital temperature control (PID) delivers water at precisley the right temperature, ensuring optimal espresso extraction."
MICRO-FOAM MILK TEXTURING
The steam wand performs at the level that allows you to hand texture micro-foam milk that enhances flavour and enables creation of latte art.
GRIND SIZE DIAL
Simple and intuitive, giving you control over the grind size no matter what type of bean you're grinding.
HANDS-FREE OPERATION
Innovative grinding cradle allows any at-home Barista to grind directly into the espresso portafilter.
Product Specification
Dimensions (WxDxH): 32.5 x 31 x 40 cm
Warranty: 2 Year Repair, Replace or Refund Guarantee (at the sole discretion of Sage Appliances)
Construction Materials: Brushed Stainless Steel
Capacity: Bean Hopper Capacity: 250 grams. Water Tank Capacity: 2 Ltr.
Settings: Single or Double Shots, Adjustable Grind Amount & Manual over-ride.
Recommended Products
Chemex Coffee Maker
---
The Chemex coffee maker will deliver the perfect cup of coffee, without any sediments or bitter elements.